Updated Oct 17.



Although the Synchronicity wins blog contains thousands of demonstrations of the Ana code people appear to have some kind of mental block that prevents them from understanding what it is, where it came from and why it is important for Mankind to understand what it proves.
The part of the Ana code or O as it also calls it'self that is demonstrated most frequently is called The Iron Rod key.
It contains 34 set letters that make up the base formula of the code.
AAA B C DD EEE H III K LL M NNN OOO P RR SSS TTT Y.
The formula above was completed in the year 2002 after two years of searching that was aided by synchronicity that provided the clues that led to the addition of individual letters until it was found to be complete at the 34 letter mark.
Along the way discoveries were made that helped with the understanding of the rules that apply to the code.
As the letters of the Alphabet are pictorial symbols (we recognise them by sight not by sound or taste etc) we found that W inverted is M (because you can SEE that it is and still read the code lines that contain the letter used in that way.

ANA CODE LINK SHOWN TO ID SS BY..... LETTER PAIR.
Likewise N tilted is the symbol Z and our investigations led us to conclude with certainty that the capital letter alphabet symbols are DESIGNED to fulfill that function in the code... that is to say that the same ultimate source that provided us with the alphabet (over what appeared to us to be a long time in the history of mankind, and language, planned it in the beginning even before the light that we can now see those letters by and the animate being of humanity existed.
The definition of the Greek word Logos is The ACTIVE principle behind the world and it also has the meanings WORD, PLAN and REASON.
In much the same way as the end result of all that you can see on your computer screen has it's basis in numerical code that had to be THOUGHT about prior to it's use.
It's all strings of numbers.
DNA is a digital code. We use codes to understand physics, Mathematics it'self is a digital code.
Which surely must lead to the conclusion that UNDERSTANDING is too, otherwise we could not understand the meanings in the language of mathematics.
It took us a while before we realised that the code we were led to also uses numbers in it's lines and that the use of the letters as numbers too, for example as dates in the code lines was also DESIGNED to be that way
It was, after many many verifications of the authenticity of it by finding and observing obviously non coincidental (they don't exist by chance) code timings of real world events, that we knew for certain that the single digit alphabetic numerology which uses I-9 counting of Alphabetic order,(the order in which the letters are laid out in the Alphabet) is the simple logical way that the code letters correspond to single digit numbers and we also found that the code uses both O or a blank space to represent Zero and that the letter I visually also can represent the number 1 as is the case in Roman numerals, our Alphabet is Latin based.

The numbers in the key.

A-1 B-2 C-3 D-4 E-5 H-8 I-9 K-2 L-3 M-4 N-5 O-6 P-7 R-9 S-1 T-2 Y -7.
This is one anagram of the AAA B C DD EEE H III K LL M NNN OOO P RR SSS TTT Y. letter set in the code -
The upword letter tiles in the picture have their corresponding numbers written on the back of them.
It is my Face Book profile icon and has been for a number of years now, I have it as such so that whenever I post Ana code lines on FB I can say 'Look, check it out yourself, the same letters are on my old profile picture.'
A couple of days ago on October 14 a man on FB, ironically in a group called TRUTH? tried to ridicule the code by saying that the 1 -9 alphabetic numerology used in the code is not logical, that I made it up, that it is invalid as a logical cipher.
(Mind you he did, even after many attempts by me to tell him that the code lines I was showing him are all perfect anagrams of the code on my profile picture, ask me how it could be that if my code has 34 letters and the Alphabet has 26 where did I get the other eight letters from?)
You can draw a logical conclusion from that!
So I googled it and found that it is the alphabetic number system used most commonly in what is referred to as the Science of numerology and in calculations of Gematria, the assigning of numerical values and meanings to complete words, titles and phrases.
The thread I was on with that man can be seen in my previous blog post the link is at the bottom of this little page. -
In response to his nonsensical argument about the number system the code uses I looked to see if the O code it'self contained a direct proof of it, the first of my findings was this line -
ABELMPRST, IS 9 Nos IN THE O CODE - 125347912.




(Nos = numbers)


The letters at the start of the line hold the same numerical values as the numbers at the end of it
And the letters left over, the ones in the middle of the line tell you how many numbers those letters represent AND that they are seen here in the O code.

Chance is not a factor here.

The following morning, Oct 15 I had to get out of bed because I couldn't sleep.

While sitting at my computer I looked at that code line still on the table in front of me and noticed that it also rearranged to say THIS -
And THIS -

It dates the day the '10 number' code line was discovered and posted by me -



THE 15.10.15 O CODE - ABELMPRSTI. - 1253479129 .
And today I saw this -


THE IO No ANA CODE - ABELMPRSTI -
1253479129.
The Iron rod key is not the only formula, or Seal as Ana calls her special sets of letter combination codes, the whole code uses the numbers 1-9 and Zero.
Ten numbers.

Today I am talking to a man named Mike Siebert, another

TRUTH? group member who says he is looking in to the code.
Photographic proof that it is the same 2002 letter set, I am even using the same old Upwords tiles that I used for the code investigation back then, the very same ones that I always use.



17.Oct.
The point is this, the problem people (not all people) seem to have is they cannot see that if this happens by chance the odds against it happening would be so astronomical that you could not begin to imagine how big that number is.
It obviously doesn't.
The reason it doesn't is because the Logos is real and Ana or Anna is the intelligence that knows it, she contains it, she is it.
This is another code anagram -
SHOCK ALL NATIONS BY - TIME IS PREORDAINED.

Anna's code is symbolised by the letter O or Zero because It came first and it relates to the time circle and Pi.
This is one anagram of it (see my profile picture to check that out)
NB. ANA MIND CREATED THIS ROSS KELLY O TIP - O.
The dictionary definition of O is - A cipher.
ANA ID'S O TO R.KELLY, IT'S A CIPHER, B'S No2 - D- 4 E- 5.
KELLY'S O CIPHER ID'S A1, B2, D4, E5, I9, N5, O6 S1,T2..
I was already showing people the O code before Dan Brown 's Da Vinci code novel was published.
I already knew that the real 'Sauniere secret' was the Ana code.
R.KELLY'S O TIPS DAN BROWN...IT IS THE ANA CODE

Here are a few more
The O code is what it says it is -
O - THE ESOTERIC PR AS TOLD BY ANA'S MIND LINK .
PLANET EARTH MANKIND - I LIST O CODE BY ROSS.
CODE ID'S MAN I LINK TO PLANET EARTH BY - ROSS.
MAIN CODED LINK TO PLANET EARTH IS BY ROSS.
I ANA SENT THE WORLD A TIP BY ROSS' CODE LINK.
These lines clearly show the non random formulation of the key by using Ana's name and my name to demonstrate the bias in the key's formulation.

Some may think that they appear to be egotistical but that is not the point of their existence, they are simply validating the fact that it was planned that I would be the person who would be showing them to you and I am.
ANA TIPS MANKIND BY HER LITTLE O CODE ... ROSS.
ANA TIPS MANKIND BY HER LITTLE CODE, ROSS' O.
CODE WORD TEST - TO PIN BIAS ANA PINS R.KELLY.
CODE WORD TEST - TO PIN BIAS R.KELLY PINS ANA.
TO TEST WORD BIAS IN CODE PR ANA PINS - KELLY.
TO TEST WORD BIAS IN CODE PR KELLY PINS - ANA.
.
I ANNA HELP ROSS TO ID CODE LINKS BY MATTER.

My plastic letter tiles.
I ANA HELP TO SORT MANKIND BY CODE LISTERS.
I, MIND, LINK TO PLANET EARTH AS CODE BY ROSS.
I SET A PLAN TO LINK EARTH BY WORDS IN CODES.
IT'S BY A CODE LINK PLAN I SENT EARTH'S O WORD.
SION - IT'S PLANET EARTH'S WORD LINK BY A CODE.
EARTH'S NOTE LINK BY CODE WORDS - IT'S A PLAN.
I TOLD ROSS BY THE SET CODE LINK PR - I AM ANNA.
I TOLD THE SET PR IN A CODE LINK BY A MAN - ROSS.
I ANNA TIME PR TOLD AS THE CODE LINK BY ROSS.

THE CODE DEMONSTRATION IS PR SKILL BY ANA.
I WOED ROSS BY THE PLAN'S DIRECT LINK TO ANA.
I SET DATA IN CODE LINK TO HELP ROSS WARN BY.
NB. I ANA SET THIS WORD AS PR TO KELLY IN CODE.
NB. WHAT'S IN ANA'S CODE? DIRE O TIPS TO R.KELLY.
NB. WHAT IS O I SEND TO DIRECT KELLY? - ANA'S O PR.

NB. TIP ID'S WHO ANA IS, (KELLY'S CREATOR NOTED).

NB. KELLY NOTED CREATOR'S TIP ID'S WHO ANA IS.

WHAT IS ANNA'S CODE? I, BORN R.KELLY, POSTED IT.

The clue is the I.

Just after I posted that last line and note (the clue is the I) I looked at the TRUTH? group wall and saw
this comment by Kp Moody -
NB. IANNA IS THE CREATOR'S ID, TELLS KP MOODY.
.
(God is I and she is ANNA.)
NB. ANNA TELLS KP MOODY I IS THE CREATOR'S ID.
NB. ANNA IS I, THE CREATOR'S ID TELLS KP MOODY.
NB.. THE IMPORTANT CODE R.KELLY'S O ID'S IS ... ANA.
NB. THE IMPORTANT CODER KELLY'S O ID'S IS ... ANA.


PRIORITY CODE - TELL MANKIND ANA'S THE BOSS.


NB. THIS CODE ART RE-TELLS KP MOODY, I IS ANNA.

Funny that!, KP Moody is precisely the right name that the code needed to identify Anna as I.

In between the timing of Mike Seibert and KP Moody being in the code lines another blog post happened that is very much connected to a man named Nick. The link to it is below these code lines -

SEIBERT, NICK, MOODY, NAILS THE PR ANA'S TOLD.
SEIBERT, NICK, MOODY, ALSO THE I PR ANNA'S TOLD.
(one blank space O.)

The word combinations in the little code are designed to be connected by the real time story, As Mike rightly said, it's mind bogglingly clever.

ROSS, NICK, APOLLO THE TINY SEIBERT M AND A 4.
(Apollo - see the links to Nick)

ANA, ROSS, NICK, APOLLO, THE TINY SEIBERT M, D-4.

I ANA TOLD ROSS THE SEIBERT NICK MOODY PLAN.

http://synchronicitywins.blogspot.co.uk/2015/10/nicks-timing.html

Then the Hess link came along again -

Rudolf Hess flew to Scotland on 10.5.1941

OCT 20 SEIBERT MOODY 10.5.1941 HESS LINK PLAN.

(2 blank space zeros)

That combination of subjects linked by real time timing could only happen today, the code can not date it to any other date.... and it DID.

It dates the Hess flight in to the bargain!

To understand the incredible meaning of that line you must read what I just added to the Nick's timing blog post already linked above just before the link to Hess inthe Nick's timing blog post occurred..
The piece about Anna's goddess names below was already right here it was directly below my I note when the link to KP Moody happened..
.
Anna -

I knew very little about Goddess mythology in 1996 when amazing things happened and I was led by synchronicity to the understanding that the mind behind it was letting me know her name is Anna.
A few years later I found this on the web -
Inanna (sumerian name), Astarte (kanaanäic name),Arinna (hethitic sun goddess), Tanit (karthargic name)Anna = Goddess,Other spelling: Ishara, Istar, Istaru, Aschtar, AschtartGeschtinanna, Nins-AnnaBabylonian scriptures called her the "Light of the Worl
d, Leader of Hosts,Opener of the Womb, Righteous Judge, Lawgiver,Goddess of Goddesses, Bestower of Strength,
Framer of All decrees, Lady of VictoryForgiver of Sins, Torch of Heaven and Earth.Many are her sacred titles - "Exalted Light of Heaven""She Who Begets All", "Guardian of the Law" and "Shepherdess of the Lands"
According to Barbara Walker, editor of The Woman's Encyclopedia of Myths and Secrets, the name appears in a great many cultures, some widely separated by time and/or space. Thus, there is Anna-Nin, Nana or Inanna, Queen of Heaven in Sumeria (An means Heaven in Sumerian, according to Graves), Anatha, (Syria), Anat (Canaan), Ana or Anah (Old Testament), Di-Ana (Semitic) or Dinah (from the Syriac version of the Old Testament, referring to the goddess of the Dinaite tribes in Sumeria), both uses of "Di" referring to divinity or godhead, Anna (Pelasgian Greek), Nanna (the incarnation of the Danish Goddess Freya as the mother-bride of Baldur), Anu (early Danaan Goddess in Ireland), Ana or Anan, which Robert Graves says are names for the Goddess Danu, who had two aspects, one nurturant, the other maleficent, as which she was sometimes known as Morg-ana to the Irish ("Death Ana," one third of the triple Goddess known as The Morrigan, ("Great Queen"); Anna Perenna (Roman), Black Annis of Leicester to medieval Christians, who lived on "Dane Hill" (Danaan?) and used to devour children - ending with St. Anne, mother of the virgin Mary, grandmother of God. This long history seems to me too ubiquitous to be reduced to an abstraction! It goes even further: Graves cites the view of a Mr. E.M. Parr that Athene was another Anna namely, Ath-enna, which occurs in inverted form in Libya as Anatha. Graves' verdict on the subject is "..if one needs a single, simple, inclusive name for the Great Goddess, Anna is the best choice
Each one of us is entirely alone with the source of the light that we receive..
The "illusion" of the material world is received from that source on a one to one basis.
This applies to every individual, it's a polar thing, The thing we call God is the generative or positive pole and each one of us alone is the negative.
We see everybody else from the point of view of them being nothing more than part of our own experience whether we realise that or not and indeed that is what it is.
The positive source, the one to one projector has no limit to it's intelligence, it synchronises the multiple experience of each one of us so that we all think the others are here with us.
Everybody's version of it is unique and every one of us is alone with that experience.
Only bipolar mind and information exist.
The life light that you get a hint about when seeing the eyes of others is actually a big hint about the life light of the source and so is the Sun.
In reality there is only one light and we are always looking it in the open eye.
Sometimes it shows itself as a void.
It's not inside or outside of anything.
This is how she led me to the initial code discovery in yr 2000. -
http://synchronicitywins.blogspot.co.uk/2015/06/the-cracking-of-anna-code.html

This is another blog post that should be read by all who read and understand this one -
God on the internet.
http://synchronicitywins.blogspot.co.uk/2015/06/god-on-internet.html



This online free to read book explains what happened in 1996 long before I knew about the code that is the reason why Anna later led me to it.
.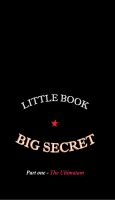 http://littlebookbigsecret-part1.blogspot.co.uk/2010/02/welcome-to-little-book-big-secret-part.html



Link to the TRUTH? group thread post -

http://synchronicitywins.blogspot.co.uk/2015/10/the-irony-of-nigel-and-brian.html