Final update -
12.3.2016.

Or so I thought until Feb 22. 2017 !!!!
In
2002
I discovered the anagram code that you will see demonstrated in the picture below the two pictures of both sides of a newspaper cutting that I cut out in
2004.
The reason why I cut Cressida Dick's letter out was because I was already in the process of writing a letter to her about the death of a well known lady named Diana and, by spotting her name in the newspaper I had just been supplied with Cressida's correct address.
When I looked at the other side of the cutting I saw that it was part of an article about the Philosopher Plato and that it's headline had been cut in such a way that it looked like it said A NOTE made out of the words A NOT and the E from another word.
This aroused my curiosity because I know that nothing happens by chance,
So I looked at the synchronicity code to see if anagrams of it would relate to that.
and Bingo! it actually does as the photo below demonstrates.
The word WRY means contorted or stretched.
Remember, I had already been using that same code for two years BEFORE finding Cressida's letter.
This little video proves that I am not fabricating this by clearly showing that the two things are both on a single newspaper cutting.
Do you think that this could possibly happen by chance?
There are
4,354,409,081, that's
4 billion 354 Million, 409 thousand and 81
possible different combinations of 34 letters of the Alphabet starting with 34 A's 34 B's etc and the ONE combination that I was led to in 2002 is the only one that contains that code line.
Video link.
Something more to ponder.

The Ana code key was completed in 2002.

Dan Brown's Da Vinci code novel was not published until 2003.

A WRY NOTE BEHIND CRESSIDA LINKS TO PLATO.

Is a perfect anagram of -

I ROSS KELLY TIP DAN BROWN, IT'S THE ANA CODE.

(I'm Ross Kelly)
The symbol for God's anagram code is O.
It is called both the Anna (or Ana) code and the O code.
Anna calls it her PR tool.
You can see one anagram of it on my profile picture.
This is another one -
HOLY O PR LINKS TO DANTE AND MISS BEATRICE.
Although they never married Dante saw her as his Soulmate;
HOLY CODE LINKS DANTE'S S' MATE B.PORTINARI.
Dante and Beatrice
Dante meets Beatrice (painting by Henry Holliday, Walker Art Gallery, Liverpool)
The story of Dante and Beatrice is one of the greatest of unrequited, distant love.
Durante degli Alighieri, better known as Dante, (c. June 1, 1265 – September 13/14, 1321) was an Italian Florentine poet. His greatest work, La divina commedia (The Divine Comedy), is considered the greatest literary statement produced in Europe in the medieval period, and the basis of the modern Italian language.
Dante was nearly nine years old when he first set eyes on Beatrice Portinari, in a gathering at her father's palazzo in Florence. She was a few months younger than Dante and dressed in a crimson dress. She captivated him completely. As he later wrote, "From that time forward love fully ruled my soul." For the next nine years he remained absolutely besotted with her but only from a distance and it was only in 1283, when he was 18, that she spoke to him as they passed each other in the street.
In 13th century Florence arranged marriages were the norm, especially amongst the uppers classes, to which both Dante and Beatrice belonged. So, at the age of 21 Dante was married off to Gemma Donati, to whom he had been betroted since the age of 12 and Beatrice married a year later too, only to die three years after that, at the tender age of 24. Dante was devastated. He remained devoted to Beatrice for the rest of his life and she was his principal inspiration for much of his well known work, such as La Vita Nuova (The New Life) and La Divina Commedia (The Divine Comedy).


I LINK DANTE - ARISTOTLE AS SHOWN BY CODE PR.

Two of Anna's thinkers.
The letters in the code correspond to numbers by the simple logic of one to nine alphabetic numbering and O represents zero.
This is a picture of my old boat Gertrude, I owned her for a few years in the 1980s.
She is a Clyde 19/24 class yacht and she was built in 1901 for a man named Andrew Eadie.
Her planking was Pitch Pine and as you can see her race number was 5.
This is a perfect anagram of the numerological code on my profile picture that I just recently found.
OLD PINE BOAT LINK - EADIE 19O1 19/24 YACHT 5.
On the day that Umberto Eco died, (19.2.16) I was engaged in conversation on FB with a man named Botteron.
My blog post at that time was all connected to the Gertrude and the number 5 on her sail in the 1901 picture.
I showed Mr Bottoron code lines that linked him to the timing of that blog post and the Gertrude's sail number.
MR DONALD BOTTERON SPIES 1901 YACHT 5 LINK.
MR D. BOTTERON SEES O PLAN I ID LINKS A YACHT.
O is the code's symbol for it'self.
D.BOTTERON'S O PR LINKED YACHT'S MAIN SAIL 5.
I never heard the name Botteron before in my entire life and yet that is the name that fits the code precisely to prove that the timing of his 'appearance' was pre- planned
THE CLYDE SAIL'S 5 PINS MR D BOTTERON 19.2.16.
(Cryptically in the code line)
The following day I saw the news about Mr Eco's death.
Then found this code anagram.
WHAT ARE THE ODDS?
This further little demonstration clearly proves that the code is pre- designed to be synchronised with my interactions on FB threads as a means of helping some people to understand that God is real
This particular thread is from an Atheist group yesterday.
NB. I TIP KAT R.DARNALL SEES I SHOW TONY CODE.
What are the odds?
Note. I know all American's aren't as stupid as Tony and Kat but when you see those question videos on You tube you have to wonder about the average Joe.
You can see the complete thread here -
http://synchronicitywins.blogspot.co.uk/2016/03/kat-and-tonys-cognitive-problem.html
11.3.2016.
The first bit below is from a few days ago.
Colleen Kat and myself were the only three people on the thread
This is from today's thread -
Anna -

I knew very little about Goddess mythology in 1996 when amazing things happened and I was led by synchronicity to the understanding that the mind behind it was letting me know her name is Anna.
A few years later I found this on the web -
Inanna (sumerian name), Astarte (kanaanäic name),Arinna (hethitic sun goddess), Tanit (karthargic name)Anna = Goddess,Other spelling: Ishara, Istar, Istaru, Aschtar, AschtartGeschtinanna, Nins-AnnaBabylonian scriptures called her the "Light of the Worl
d, Leader of Hosts,Opener of the Womb, Righteous Judge, Lawgiver,Goddess of Goddesses, Bestower of Strength,
Framer of All decrees, Lady of VictoryForgiver of Sins, Torch of Heaven and Earth.Many are her sacred titles - "Exalted Light of Heaven""She Who Begets All", "Guardian of the Law" and "Shepherdess of the Lands"
According to Barbara Walker, editor of The Woman's Encyclopedia of Myths and Secrets, the name appears in a great many cultures, some widely separated by time and/or space. Thus, there is Anna-Nin, Nana or Inanna, Queen of Heaven in Sumeria (An means Heaven in Sumerian, according to Graves), Anatha, (Syria), Anat (Canaan), Ana or Anah (Old Testament), Di-Ana (Semitic) or Dinah (from the Syriac version of the Old Testament, referring to the goddess of the Dinaite tribes in Sumeria), both uses of "Di" referring to divinity or godhead, Anna (Pelasgian Greek), Nanna (the incarnation of the Danish Goddess Freya as the mother-bride of Baldur), Anu (early Danaan Goddess in Ireland), Ana or Anan, which Robert Graves says are names for the Goddess Danu, who had two aspects, one nurturant, the other maleficent, as which she was sometimes known as Morg-ana to the Irish ("Death Ana," one third of the triple Goddess known as The Morrigan, ("Great Queen"); Anna Perenna (Roman), Black Annis of Leicester to medieval Christians, who lived on "Dane Hill" (Danaan?) and used to devour children - ending with St. Anne, mother of the virgin Mary, grandmother of God. This long history seems to me too ubiquitous to be reduced to an abstraction! It goes even further: Graves cites the view of a Mr. E.M. Parr that Athene was another Anna namely, Ath-enna, which occurs in inverted form in Libya as Anatha. Graves' verdict on the subject is "..if one needs a single, simple, inclusive name for the Great Goddess, Anna is the best choice
Each one of us is entirely alone with the source of the light that we receive..
The "illusion" of the material world is received from that source on a one to one basis.
This applies to every individual, it's a polar thing, The thing we call God is the generative or positive pole and each one of us alone is the negative.
We see everybody else from the point of view of them being nothing more than part of our own experience whether we realise that or not and indeed that is what it is.
The positive source, the one to one projector has no limit to it's intelligence, it synchronises the multiple experience of each one of us so that we all think the others are here with us.
Everybody's version of it is unique and every one of us is alone with that experience.
Only bipolar mind and information exist.
The life light that you get a hint about when seeing the eyes of others is actually a big hint about the life light of the source and so is the Sun.
In reality there is only one light and we are always looking it in the open eye.
Sometimes it shows itself as a void.
It's not inside or outside of anything.
Different thread -
She is indeed the God of the living.
It's now several hours later.
Just at the time that my daughter Cate took that picture for me my partner Elaine and I had been talking about the Lamb of God and the two scrolls from 'Revelations' because I had been sent part of a thread on which that subject was being discussed.
I did not see the photo until Catey sent it to me as a FB message,
At the top of my code line in that picture Cate also caught part of a picture on a table mat that we have had on the kitchen table for years now.
On it you can see a picture of an old Lamb and the word HERE.
I just looked at the code again to see if it relates to the previoys picture and THAT. -
R.K, DANNITA LINDSEY 11.3.2016 - TOP - LAMB HERE.
WHAT ARE THE ODDS?
Please try to understand that only the name Dannita Lindsey coupled with today's datea d my own initials could isolate the rest of the message in the key.
TOP - LAMB HERE.
This is what led me to have to willingly do this, before I made the initial code discovery in 2000 and completed the master key demonstrated on this page in 2002 something else of major importance occurred in 1996.
The ultimatum. -
http://littlebookbigsecret-part1.blogspot.co.uk/2010/02/welcome-to-little-book-big-secret-part.html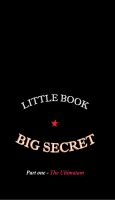 These people have got it right,
.By Deepak Chopra, MD, Menas Kafatos, PhD, Bernardo Kastrup, PhD, Rudolph Tanzi, PhD
Science concerns itself with reality, in the form of "real particles", "real organisms", and the "real universe". The tacit assumption is that science can answer the question of reality itself. If this wasn't the case, science would have a hard time explaining why it holds a special place as a human activity. So one must grant that science concerns itself with the reality of "objects". What this assumes, of course, is that objects exist independent of conscious experience. In the first two articles of this series, we've discussed the evidence that our universe is in fact fundamentally mental. What we call physical things and events, as it turns out, do not exist independently of subjective experience.
If they did, how would one even prove such existence? Conscious experience is the only way that reality can be known. The implications of this increasingly unavoidable conclusion--that the universe must be approached as fundamentally mental--are often misunderstood. For this reason, the vast majority of scientists cling to the belief in materialism, regarding anything else as metaphysics and not science. The goal of the present article is to address some of these misunderstandings.
To begin with, we aren't proposing that human mental activity is necessary for the world to exist, i.e., for it to be real. Or to put it another way, reality can be independent of the human mind, but not necessarily of mind or consciousness in general. When we say that the universe is mental, many people interpret this to mean that reality is in our heads. Precisely the opposite is the case: if all reality is mental, then our heads and bodies, as parts of reality, are in the mind. This may sound surprising at first, but it is entirely consistent with everyday experience. There is nothing to our bodies but our felt perceptions of them. A body is what a particular swirl in a transpersonal flow of experiences looks like, just like a whirlpool is what a particular swirl in a stream of water looks like.
Indeed, to say that the universe is mental does not mean that it exists only within the limited minds of humans. Instead, the universe is the expression of a universal mind that transcends personal awareness.
Until it contacts you.
There is evidence which strongly suggests that the material world does NOT exist!
A famous exponent of this view was Sir Arthur Eddington, the great astrophysicist, and a modern disciple of Eddington's is Richard Henry, Professor of Physics & Astronomy at Johns Hopkins. Both these gentlemen reached their conclusion from studying the scientific evidence, not from metaphysical wishful-thinking.
For those of you who have read this post and still don't get it here's one of Anna's little messengers -
http://www.british-birdsongs.uk/woodpigeon
"you sTUpid people"
I was woken up by one this morning and once you hear it it's hard not to hear those words.
......................................................
Update link,
Feb 22.2017
-
The Cressida Dick Diana link came back in a very timely way
http://synchronicitywins.blogspot.co.uk/2017/02/cressida-and-dianaagain.html